---
Records scheduling and disposal
It is important to establish retention and disposal schedules to ensure systematic planning and orderly implementation of records disposal after records have been kept the right length of time to meet the purposes they are created and in compliance with legal or statutory requirements. This will facilitate subsequent transfer of inactive records to GRS' Records Centre for intermediate storage, transfer of archival records to the Public Records Office (PRO) of GRS for permanent retention or destruction of unwanted records.
The retention and disposal of administrative records are governed by General Administrative Records Disposal Schedules (GARDS) developed by GRS. Retention and disposal schedules covering programme records of B/Ds should be drawn up with the concurrence of GRS Director.
A typical records retention and disposal schedule will contain the following details :


Records series title and subject matter: the type/scope of records covered by the schedule;
Criteria for defining inactive records: an indicator to demarcate active and inactive stages of records so as to start the counting of retention period (e.g. after action completed or after file closed);
Retention period of inactive records: the period the records are to be kept after active use (i.e. meeting the defined inactive records criterion) but before their final disposal;
Custody venue: the place where inactive records are kept during the retention period; and
Disposal action: the final disposition of records (e.g. destruction, converted to microfilm, appraised by PRO, or transferred to PRO for permanent retention as archival records).
The figure below illustrates how a records retention and disposal schedule plans the life of a series of records relating to licence applications :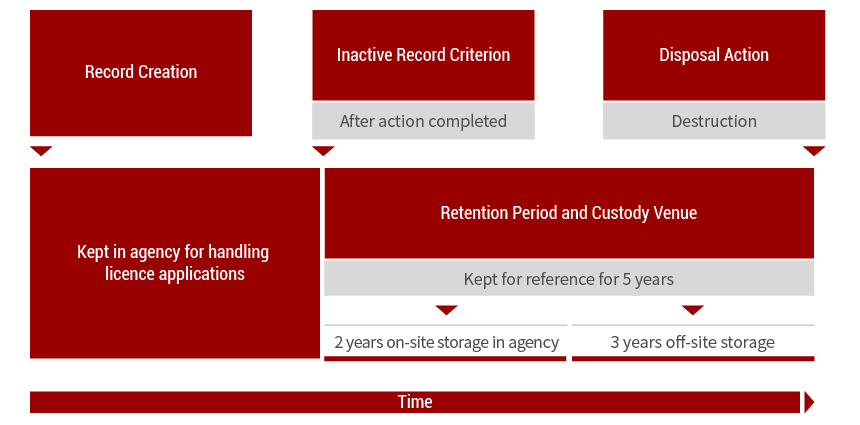 Regular disposal of records facilitates easy retrieval of records in active use, and minimises costs for maintaining and storing records. Accordingly, it is necessary to arrange prompt disposal of time-expired records, i.e. inactive records which have been retained for the period specified in the GARDS for administrative records or the approved retention and disposal schedules for programme records and are ready for disposal.
B/Ds must obtain the prior agreement of the GRS Director before they destroy any government records. This is to safeguard against premature disposal of records and destruction of records having archival value. The information of records approved for destruction in all B/Ds is published on an annual basis from 2016 onwards.
Those records appraised as possessing archival value by PRO should be transferred to and preserved by PRO.
---